---
Foreword
Introduction
Welcome to the third Helium Protocol Report of 2023. Following the release of the Q2 Protocol Report earlier this year, much has transpired within the Helium Network and its associated subnetworks, IOT and Mobile.
The Helium Foundation, a 501(c)(6) not-for-profit entity, continues to drive the mission of propagating secure and cost-effective wireless coverage worldwide. As the steward of the Helium Network—the world's largest decentralized wireless network—the foundation is committed to fostering a conducive environment for network governance, ecosystem development, and public education, all aimed at serving the broader wireless industry and its stakeholders.
Executive Summary
IoT Network
The IOT denylist evolved to utilize a new weekly generation process and a set of classifiers to identify hotspots gaming the IOT Proof of Coverage system.
Gateway-rs, the software backing all IOT Hotspots on the Helium Network, was upgraded to include several performance improvements related to data delivery and Proof of Coverage response times.
Several innovative use cases were developed on the network: combating hay theft with sensors, flood detection, heavy-duty asset tracking, and sustainable packaging integrated with real-time delivery tracking.
TrackPac launched its new OpenLNS provider, ChirpCloud.
Mobile Network
Helium Mobile Beta access was launched alongside the Helium Mobile users refer-a-friend program.
The Discovery Mapping feature, a location-sharing program, has been introduced to identify where additional people-built coverage will have the most impact.
Helium Mobile's $5 unlimited plan launched exclusively in Miami-Dade County.
Foundation
In the testing phase of the new modular governance - Helium Vote, where the Helium Community comes together to make decisions on the Network.
Educational materials to engage with the community, including research reports, blogs, videos, podcasts, newsletters, infographics, press releases, news articles, and more.
Updates on events, hackathons, and meetups to support the healthy growth and development of the Network.
The legacy Explorer and API at explorer-old.helium.com were shut down on July 28, with the Solana-backed Helium Explorer at explorer.helium.com continuing for coverage maps and network stats.
Website and App Store updates have been rolled out.
---
Halving
The halving occurred on August 1st, 2023, per the guidelines outlined in HIP20, ensuring HNT scarcity and making Helium more accessible to a wider audience. This event saw the rewards for $HNT, $IOT, and $MOBILE halved.
Helium's HNT Token was listed on Coinbase on Wednesday, July 12, 2023, opening up more accessibility for the token. Following Coinbase, Gemini also listed HNT on Thursday, September 7, 2023, further broadening its availability to investors.
HIP 88 passed with a 99.1% passing score. This HIP proposes to make the $A$ factor of the subDAO utility score more granular by using the individual onboarding fee of an active device paid instead of relying on a homogeneous onboarding fee. This will allow subDAOs to change their onboarding fee without negatively affecting their subDAO utility score.
---
The Helium IoT Network
IOT Working Group Charter
In a collaborative effort, the Helium community established the IOT Working Group Charter. The primary objective of this charter is to collectively work on Helium Improvement Proposals (HIPs) aimed at refining and advancing the Proof-of-Coverage (PoC) framework used by the IOT subnetwork. This advancement is targeted at driving incentives for creating useful coverage. The IOT Working Group is committed to meeting on a weekly basis for an hour to develop IOT HIPs. Prior to implementation/activation, all HIPs will still need to be voted on by the Community at large through veIOT positions as defined in HIP-52.
The Helium Network in Africa
The Helium Foundation and One Planet Education Network, working with local authorities, stakeholders, and network deployers, propose a regional frequency standard for Africa. The approach, setting most countries with "unknown" and EU433 LoRaWAN regional frequency parameters to EU868, aims to harmonize frequencies and provide African countries without applicable regulations an easy path forward to adopt a plan and regulate.
This provisional configuration, set in collaboration with Telecoms Regulatory Authorities in these countries, aims to increase technology accessibility across the continent and allow companies and individuals to build and innovate using the Helium Network. Read the full proposal here.
Developments in IoT Proof-of-Coverage
In September, a refinement to the denylist was deployed to identify and, more precisely, prevent rewarding improbable witness events. This update will allow Hotspots to continue operating and earn PoC rewards for RF behavior that benefits the network. Read more on the Helium devblog.
Changes in Denylist Operation by Nova Labs
In early August, Nova Labs announced modifications in the denylist operation to ensure network integrity and to address any prevailing issues.
The deny list system is a step towards the end goal of being able to augment the PoC pipeline with normal, HIP-approved, and open-sourced classifiers that detect gaming techniques and scale rewards down appropriately as PoC data is processed.
Since the HIP process takes time and doesn't allow for a fast reaction to new PoC gaming vectors, the deny list offers a way to apply fast stop-gap measures to stop gaming attempts. Once proven and solid, those measures should be promoted into the PoC pipeline using the normal HIP process.
To be effective, the deny list must be authoritative in that an individual hotspot on the deny list can not be appealed. What can be appealed is the algorithm used to put that hotspot on the list by analyzing all tagged hotspots with a given algorithm and proving that it is flawed. This improves the algorithm itself, reducing false positives, while avoiding non-scalable human reviews.
The new process for managing the deny list must have the following properties:

Detection criteria are transparent, public, and reproducible using data that are available to everyone. The exact code may not be made public to reduce the breakdown speed of a detection algorithm.
Removals from the list are automatic and happen quickly (within 7 days) when a new denylist is generated, assuming hotspot behavior has been adjusted.
Hotspots can be added manually to the deny list in an emergency measure but will be removed from the manual list automatically after 14 days. This allows for fast reaction while forcing the algorithm to improve within the given window of time and does not let hotspots languish on the deny list.
The Helium IoT Network
cont.
What Use Cases Are Being Built?
This quarter, we welcomed several new users to the Helium IOT network and saw innovative new devices from veteran Helium companies.
Several innovative use cases and partnerships have emerged, showcasing the Helium Network's versatility across different domains.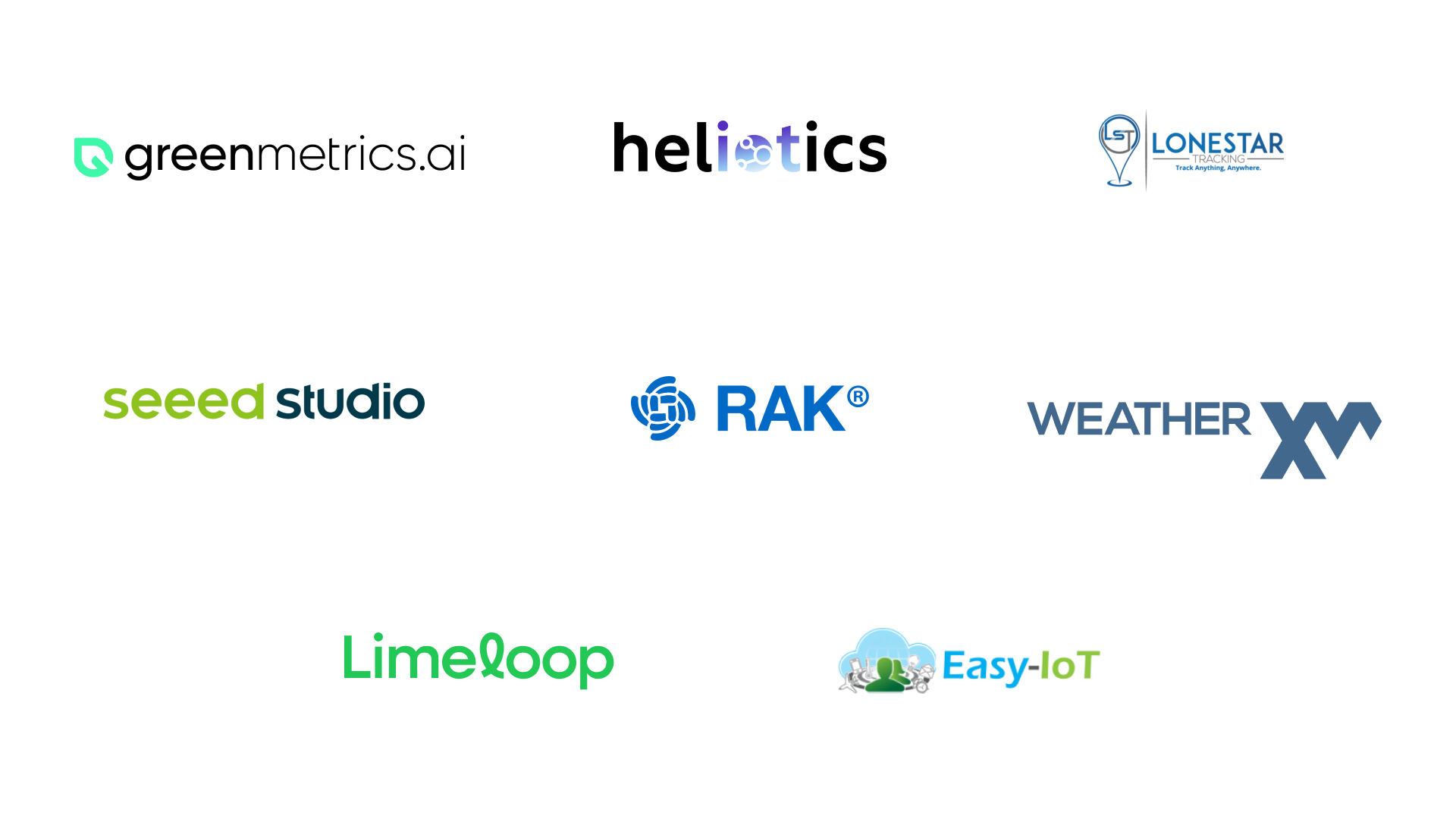 Greenmetrics - Highlighted in the last protocol report, Greenmetrics has scaled its deployment. Faced with new storms in Portugal, the team has shown how solutions can scale to meet the demands of municipalities and first responders.
Heliotics Waste Monitoring - Enables individuals, private organizations, and cities to connect to the Internet of Things using state-of-the-art technologies, cutting-edge IoT devices, and integrated solutions using the Helium Network. Watch how the first-of-its-kind bear-proof waste containers in Hrebienok National Park, turn smart with sensors that run on the Helium Network.
Smart Tank Monitoring Solutions - Through smart sensors and Helium LoRaWAN, real-time tank monitoring is facilitated, eliminating the need for physical checking and enabling timely refills, thus saving resources and managerial time.
Lonestar Theft Protection - A group of people dedicated to providing an easy-to-use GPS tracking solution for everyone by increasing safety and security, decreasing automotive expenses, and always being able to locate and monitor any asset you own. Most recently, Lonestar addressed the surge in hay theft across Texas by utilizing tracking sensors on the Helium Network for monitoring.
Mapping Network Wildfire Detection - This initiative involves deploying smart sensors in wildfire-prone areas throughout Canada. Utilizing the Helium Network for monitoring environmental factors like temperature, humidity, and air quality provides a cost-effective and efficient solution to wildfire detection and management.
Seeed Studios Launches new Tracker, the SenseCAP T1000 - Launched through a Kickstarter campaign, the Seeed Tracker SenseCAP T1000 is a compact LoRaWAN tracker that snugly fits into a pocket or attaches to assets. It's equipped with GPS, Bluetooth, and Wi-Fi for seamless indoor and outdoor positioning, along with monitoring capabilities for temperature, brightness, and movement. The tracker also features frequency switching capabilities and an emergency button, buzzer, and boasts an extended battery life, ensuring reliable tracking across various applications.
RAKwireless Sticker Tracker Launches as Open-Source - RAKwireless launched their sleek sticker tracker for LoRaWAN, which is designed like a label, making it easy to attach to any product. It offers real-time location tracking through the Helium network server's advanced features. With a built-in temperature sensor and an integrated 3-axis accelerometer, it provides accurate temperature monitoring and optimized device usage – and can be customized to any solution through its open-source design. Github
WeatherXM Celebrates 3,500 Weather Stations Deployed - With a vision to build the world's largest community-owned weather network, WeatherXM has already deployed over 3,500 weather stations globally. By leveraging the Helium Network, WeatherXM aims to provide hyper-local weather data to individuals and services worldwide, which is particularly crucial in emerging markets lacking weather monitoring infrastructure.
WeatherXM Celebrates 3,500 Weather Stations Deployed - With a vision to build the world's largest community-owned weather network, WeatherXM has already deployed over 3,500 weather stations globally. By leveraging the Helium Network, WeatherXM aims to provide hyper-local weather data to individuals and services worldwide, which is particularly crucial in emerging markets lacking weather monitoring infrastructure.
Limeloop Tracking - Introducing a sustainable packaging solution with sleek reusable mailers made from upcycled plastics. These mailers are embedded with LoRaWAN modules for real-time tracking using the Helium Network and Amazon's Sidewalk network, aiming to replace traditional cardboard boxes. Limeloop's solution was recently featured in TechCrunch. You can read the full article here.
LoRaWAN On Helium
Helium's OpenLNS initiative enables any LoRaWAN Network Server (LNS) to use Helium's IOT Network. Since recent architecture changes made this possible, Helium has seen an influx of new and existing users offering services on their own LNS.
A notable change was made to the Helium Packet Router on September 28, 2023, to eliminate network billing of LoRaWAN join request messages on the IOT network, aiming to protect the network and its operators from potential spamming issues related to unsolicited device joins. This change ensures that while the initial join process is unbilled, all subsequent data transfers from the sensor are accounted for, rewarding the Hotspot providing coverage for purchased uplink packets. A Helium Improvement Proposal (HIP) will be introduced, and a discussion in the Helium Community Discord will be initiated to further discuss this change.
A recent report by Beecham Research underscores LoRaWAN as the leading LPWAN technology for IoT applications, with Helium's full support for the LoRaWAN protocol contributing significantly to this acclaim. Beecham Research Report.
---
The Helium Mobile Network
A series of HIPs, including HIP 82, 84, and 79, were passed, marking significant advancements in the Mobile Network. These proposals aim to improve network coverage, incentivize mapping activities, and introduce new rewarding entities, among other developments.
Developments in Mobile Proof-of-Coverage
HIP 82: Add Helium Mobile as a Service Provider to the Helium Mobile subDAO
HIP 82 successfully passed with an overwhelming majority of 99.9% yes votes. The proposal aimed at incorporating Helium Mobile, a subsidiary of Nova Labs, as a Service Provider within the Helium Mobile Network subNetwork. This stride comes at a pivotal time when the Helium Community has made remarkable progress in constructing the Helium Mobile Network. By initiating the first Service Provider of the Mobile Network, Helium Mobile intends to offload its subscriber traffic onto the network, inviting other Service Providers to join and thereby enhancing overall network traffic and rewards for Hotspot operators.
Aligning with the guidelines detailed in HIP 53, the staking requirements, rewards, and responsibilities for Helium Mobile as a Service Provider have been defined. Helium Mobile will stake 500M MOBILE tokens and receive an NFT representing its status, which will remain locked as long as it continues as a Service Provider in the MOBILE subDAO. As a Service Provider, Helium Mobile is entitled to claim up to 10% of MOBILE rewards in the Service Provider bucket.
Operating as a roaming partner on the Helium Mobile Network, Helium Mobile will utilize Data Credits (DC) to cater for data transfer. The minimal price for data transfer is established at $0.50 per 1 GB, pending approval by the MOBILE subDAO. In regions lacking Helium Mobile Network coverage, T-Mobile's 5G coverage will be leveraged, thanks to the partnership between Nova Labs and T-Mobile, thereby ensuring Helium Mobile subscribers have access to both networks.
HIP 84: Service Provider Hex Boosting
With 96.9% yes votes, HIP 84 proposed a framework to boost the growth and optimization of the Mobile Network by enabling Service Providers to influence the deployment of coverage in specific locations. The goal is to refine the network's usefulness and coverage by targeting high-potential areas for data offloading.
Prior to this, the lack of guidance on optimal Radio placements led to suboptimal coverage. This HIP addresses this issue by incentivizing Service Providers to establish new coverage in locations with potential users of the Mobile Network.
The changes introduced include the development of a UI Tool for managing Hex Boosting, Solana smart contracts for managing hex boosting rewards, updating Oracle rewards buckets, and providing educational resources for understanding and modeling hex boosting.
HIP 79: Mobile PoC - Mappers Rewards
Passing with 82.3% yes votes, HIP 79 aims at establishing a new rewardable entity for the Mobile Network, dubbed Mobile Mappers. The proposal outlines a framework for rewarding various mapping activities like verification mapping and discovery mapping, with a suggestion to adjust the Service Provider reward bucket from 20% to 10% and increasing the Mapper reward bucket from 10% to 20% to boost reward incentives for Mappers.
Following the proposal's passing, several additions were made to the Helium Network, including the onboarding of Mappers and Subscribers to the Solana blockchain with NFTs, adjusting the Mappers rewards bucket to 20% of emitted MOBILE, and implementing various algorithms and tools to support the new reward system.
The introduction of the Discovery Mapping feature is a significant step towards enhancing the Helium Mobile Network by sharing location data to identify areas where expanding people-built coverage could have a notable impact. Users can opt into Discovery Mapping on the Helium Mobile app, and by sharing their phone's location data, they contribute to identifying ideal locations for deploying new Helium Mobile Network coverage, all while going about their daily routine.
Helium Mobile's $5 Unlimited Plan in Miami-Dade County
The launch of Helium Mobile's $5 Unlimited Plan marks a crucial step towards making connectivity affordable and accessible to all. Initially available exclusively in Miami-Dade County, this innovative approach combines the nationwide 5G network of a partner with the people-built, open-source Helium Mobile Network, offering an unbelievably low price of $5 per month to all subscribers in the region.
---
Helium Foundation
Now, let's get into some Helium Foundation news!
Grant Program
A New Helium Bridge Helps Solve Lower-Powered Sensor Connection Problems.
In April of 2023, Helium community members Nik Hawks and Dirk Beers set out to "bridge the gap" between many lower-powered sensors that transmit small signals at shorter distances vs. higher-powered sensors that operate on the Helium LoRaWAN Network.
Using a grant from the Helium Foundation, the team developed a circuit board product that integrates with other sensors and enables the reading of data from those devices using LoRaWAN technology, allowing it to re-broadcast onto the Helium LoRaWAN Network.
This innovative device opens the door to thousands of new sensor types that can now easily onboard onto the Helium ecosystem. Sensor types include weather stations, soil moisture sensors, air quality monitors, tire pressure sensors, people counters, traffic counters, parking sensors, or any number of different sensors. The ability to bridge over information adds a ton of potential value to the Helium ecosystem.
Learn more about the project on Youtube
The Helium Foundation accepts applications from builders in the ecosystem and provides opportunities to connect with our capital partners. If you have an innovative idea, please get in touch with us at [email protected].
Helium and the Solana Ecosystem
The Helium community approved a migration to the Solana blockchain last year. The migration successfully took place in April 2023.
The Solana migration provided the Network with several immediate benefits, including no longer needing to run the Helium blockchain and having to scale block production and transaction processing.
Other benefits allowed immediate composability with the Solana ecosystem, including native support of existing wallets, token support on centralized and decentralized platforms, and integration with a rich ecosystem of applications in addition to unlimited access of the valuable Solana developer community.
The Helium Network has since moved hundreds of thousands of Hotspots and wallets to the Solana blockchain, an incredible feat! Since then, over 150k wallets in total have interacted with Solana program. These wallets have done everything from adding Hotspots to the network, moving their locations, claiming rewards for providing coverage, redeeming tokens through treasuries, and participating in governance on the Network.
The collaboration between Helium wallets interacting with Solana projects has expanded this quarter, to include DeFi protocols, wallet and multi-sig tools, governance tools, and the broad NFT ecosystem, which are all being engaged with and embraced by Helium community members.
Website and App Store Updates
The Helium Foundation website now features a Press Page, with all the latest news and media features. Additionally, the development of a Use Cases page is underway to provide more insights into real-world applications of the Helium network. You can see the new page live now.
Release of Helium HNT Wallet v2.2.2
The release of Helium HNT Wallet version v2.2.2 was a significant stride towards refining the user experience, particularly for individuals managing a large number of Hotspots. A notable enhancement of this release was the markedly accelerated "claim all" functionality, addressing a substantial challenge previously encountered by users with extensive Hotspot holdings. Additionally, this version rectified minor bugs that were experienced during word entry in the wallet import process, thereby enhancing the overall operational smoothness.
Protocol Updates
HIP-88
The protocol has seen large updates over Q3, the largest of which was the implementation of HIP-88. This enabled the protocol to track onboarding fees paid on a per-hotspot basis. Not only did this improve tracking for the Active Devices(`A`) portion of the SubNetwork utility scores; it also allows onboarding fees to be changed over time. These fees can also be different across devices, within the same SubNetwork. This can be seen with the onboarding pricing of Wi-Fi hotspots vs CBRS hotspots in the MOBILE SubNetwork.
Verifiable Builds
Security.txt has been added to all Helium smart contracts, as well as using Verifiable Builds. Verifiable builds allow anyone to confirm that the contracts on Solana mainnet-beta match the contracts in our Open-Source github.
Dependency Upgrades
Q3 also saw the updating of the protocol contracts to Anchor 28 and Solana 1.16.
Data Only Hotspots
The creation of new Data Only IOT hotspots are now supported on the network. This can be done using the new helium wallet CLI. These hotspots can then be managed via the Helium Wallet App.
Modular Governance
The protocol team has created and deployed a new set of smart contracts to manage Helium governance. While realms/spl-governance has served us well, it lacks several capabilities necessary for Helium. This includes requirements like multiple choice voting, and helium's quorum settings. The new modular governance takes advantage of the old helium-vote user interface, bringing back a familiar voting style to the community.
MOBILE Carrier and Manufacturer Staking
The MOBILE staking requirements for manufacturers have been implemented. These are now required going forward.
Manufacturing Compliance Committee Update
The Manufacturing Compliance Committee (MCC) voted in favor of granting Nova Labs a provisional maker key for their WiFi Hotspot intended for use on the MOBILE sub-network. This decision marks a significant milestone as Nova Labs becomes the first WiFi maker for the MOBILE Network.
This development underscores the ongoing collaboration between the MCC and the Foundation to refine and expand the Maker audit process, ensuring it remains robust and scalable to accommodate the growing ecosystem.
Helium Ecosystem Education
In our ongoing effort to keep the Helium community informed, engaged, and motivated, we've launched and nurtured several impactful communication channels and campaigns over the past quarter. Here's an in-depth look at our initiatives from the third quarter:
1. Monthly Newsletter - As an additional channel of communication, the Helium Foundation launched "Helium Packets" in Q3 2023. This monthly publication serves as a comprehensive digest, detailing recent developments, emerging projects, resources, and upcoming events pertaining to the Helium Network. As of this report, we have successfully disseminated three editions, each underlining our commitment to providing stakeholders with timely insights.
2. Blogposts & Educational Resources - In alignment with our strategy to reinforce Helium's standing as a thought leader in the field, we've commissioned a variety of articles and educational materials. These publications, accessible via our official channels, cater to a wide audience, ranging from Helium Network novices to seasoned ecosystem participants. The primary goal is to elucidate the network's capabilities and its potential for enterprise applications. Blog.
3. Press Announcements - During Q3, significant announcements marked our expansion and presence in the world's largest decentralized network.
4. Multimedia - To complement written content and cater to the diverse content consumption preferences of Network's stakeholders, we released a curated series of informative videos.
Voting on HIPs using the Helium Wallet App and your IoT and MOBILE tokens.
SenseCAP T1000, a Card Size LoRaWAN GPS Tracker for Seamless INDOOR & OUTDOOR Positioning.
---
Community Engagement
Helium DAO
HIP 88: Adjustment of DAO Utility A Score
HIP 88 passed with a 99.1% passing score. This HIP proposes to make the "A" factor of the subDAO utility score more granular by using the individual onboarding fee of an active device paid instead of relying on a homogeneous onboarding fee. This will allow subDAOs to change their onboarding fee without either negatively affecting their subDAO utility score.
Read the full HIP here.
Helium IOT SubDAO
HIP 72: Secure Concentrators
The community did not approve HIP 72. HIP 72 registered a 61.2% "yes" response, which is below the passing threshold. In this HIP, the community proposed an amendment to HIP 19 to enable a new type of IoT network actor: a Secure Concentrator Card (SCC). A Secure Concentrator Card is similar to a standard LoRaWAN concentrator card, but with an additional Secure Microcontroller Unit (SMCU) and onboard GPS receiver. The SMCU digitally signs LoRa data packets as they are received from the radio. In this way, packet data and its corresponding metadata (RSSI, Frequency, GPS location and time) can be verified to be authentic. The primary intention of this HIP is to combat Proof-of-Coverage gaming. Secure Concentrators achieve this by providing trustworthy data upon which better gaming detectors and PoC algorithms can be built.
Read the full HIP here.
HIP 83: Restore First to Respond Witness Rewarding
HIP 83 reached a passing percentage of 70.3% for its respective proposal. HIP 83 is a community created proposal to change Proof-of-Coverage for the IOT network. This proposal rewards the first 14 Hotspots responding to a beacon, this modification is expected to improve network's performance by prioritizing lower latency and more efficient data transmission. Hotspot owners don't need to take any action for HIP 83. HIP 83 is an Oracle change which came with author developed code and was deployed on July 13, 2023.
Read the full HIP here.
HIP 91: Continuation of Reduced IOT Location Assertion Cost
HIP 91 reached a passing percentage of 96.2% for its respective proposal. This HIP proposes an extension of the reduced Hotspot location assertion fees on the network. Recently the fees for IOT hotspots were halved as per HIP-69 since the Solana migration. However, this adjustment was set to expire on July 20th, 2023, at midnight UTC, after which the fee was due to increase back to $10 in Data Credits. This proposal implemented maintaining the reduced fee for an additional 6 months to incentivize hotspot relocation and gather more data on the impact of a $5 versus a $10 reassert fee.
Read the full HIP here.
HIP 92: Correcting IOT Pre-mine Calculation Errors
The community did not approve of HIP 92. HIP 92 registered a 40.8% "yes" response, which is below the passing threshold. Based on the specifications in Helium Docs, and in HIP 52, all Hotspots that were active, not on the denylist, and earned rewards from either beaconing, witnessing or passing rewardable data, were supposed to receive the IOT pre-mine at the Solana migration. This HIP proposed to correct for a coding error that left out all "Data Only" Hotspots, as well as an error in the selection process during the migration, which missed some active Hotspots with PoC rewards. Hotspots that did not receive the premine at the time of migration will not receive this until a new HIP is passed by the community.
Read the full HIP here.
Helium MOBILE SubDAO
HIP 85: MOBILE Hex Coverage Limit
HIP 85 reached a passing percentage of 77.7% for its respective proposal. This HIP implements adding a baseline hex multiplier score to the MOBILE Proof-of-Coverage (PoC) Modeled Coverage Points based on whether other coverage from Helium 5G deployments exists within that res12 hex. This will reward unique coverage with more Modeled Coverage PoC points than redundant and overlapping coverage. This HIP only applies to outdoor radios, and no changes to the reward structure of indoor mobile radios are being made with this HIP.
Read the full HIP here.
HIP 87: Proportional Service Provider Rewards
HIP 87 reached a passing percentage of 96.9% for its respective proposal. This proposal clarifies Service Provider eligibility for rewards established in HIP-53 (currently defined as 10% of emissions). It implements a usage-based approach to calculating Service Provider rewards similar to HIP-10 for the IOT Network. Service Providers will be rewarded in MOBILE tokens at a 1:1 ratio to burned Data Credits. The proposal also specifies that any part of this category that is not rewarded will not be minted. This prevents a Service Provider from claiming the full MOBILE Service Provider Reward Bucket while burning less than an equivalent amount of Data Credits (DC). A proportional distribution will be applied if the total Data Credits exceeds the emissions value for this category of rewards.
Read the full HIP here.
HIP 89: MOBILE Network Onboarding Fees
HIP 89 reached a passing percentage of 96.8% for its respective proposal. This HIP requests that Helium Foundation correct the MOBILE Onboarding Fee from 0 USD to 40 USD and the MOBILE Location Assert Fee from 0 USD to 10 USD as soon as possible so that the fees are in compliance with HIP-53 and HIP-19. This HIP has been implemented.
Read the full HIP here.
HIP 93: Addition of Wi-Fi Access Points to the Helium Mobile SubDAO
HIP 93 reached a passing percentage of 98% for its respective proposal. This HIP outlines important aspects of adding Wi-Fi access points to the Helium Mobile Network. It describes location verification during onboarding for indoor access points and suggests approaches to continuously verify the locations of such access points. Additionally, the HIP proposes an algorithm and reward structure for Wi-Fi access points similar to what is defined in HIP-74 but adjusted for the technical specifics of Wi-Fi compared to CBRS radios.
Read the full HIP here.
Mobile Working Group Membership Elections
In this quarter, the Helium community elected new working group members to foster MOBILE Network coverage. The community elected 11 working group members:
professor/v4gab0nd - 79.0% - proposal passed
Heatedlime - 97.1% - proposal passed
@Max - DePin State on YT/capc0m - 92.6% - proposal passed
Hans/Hansfl - 100% - proposal passed
JD - HeliumDeploy/cryptojd - 92.5% - proposal passed
zer0tweets - 100% - proposal passed
Greenz/greenzdewi - 99.9% - proposal passed
jhella - 100% - proposal passed
KeithR/keith_rettig - 100% - proposal passed
gateholder/gateholder#6798 - 100% - proposal passed
Jay M./jaym2518 - 97.7% - proposal passed
---
Looking ahead...
Helium Foundation announced its Membership Program and is now accepting applications for 2024. The Foundation sits at the center of the Helium community serving as both steward and the coordination layer for the expansion and growth of decentralized wireless. The team plays multiple roles in supporting network growth and all its beneficiaries. Helium Foundation Membership Program is made up of institutions and individuals that share the mission and vision of the Helium Foundation. Membership supports passionate individuals and organizations with promotional opportunities, direct access to Network updates, and collaborative development.
The Membership Program is a dues-based membership. Dues will directly support the Foundation, membership offerings and benefits, and provide ecosystem stability and public advocacy to the network and beyond. The Foundation is a US-based 501(c)(6) not-for-profit trade association. Membership dues may be tax deductible for businesses.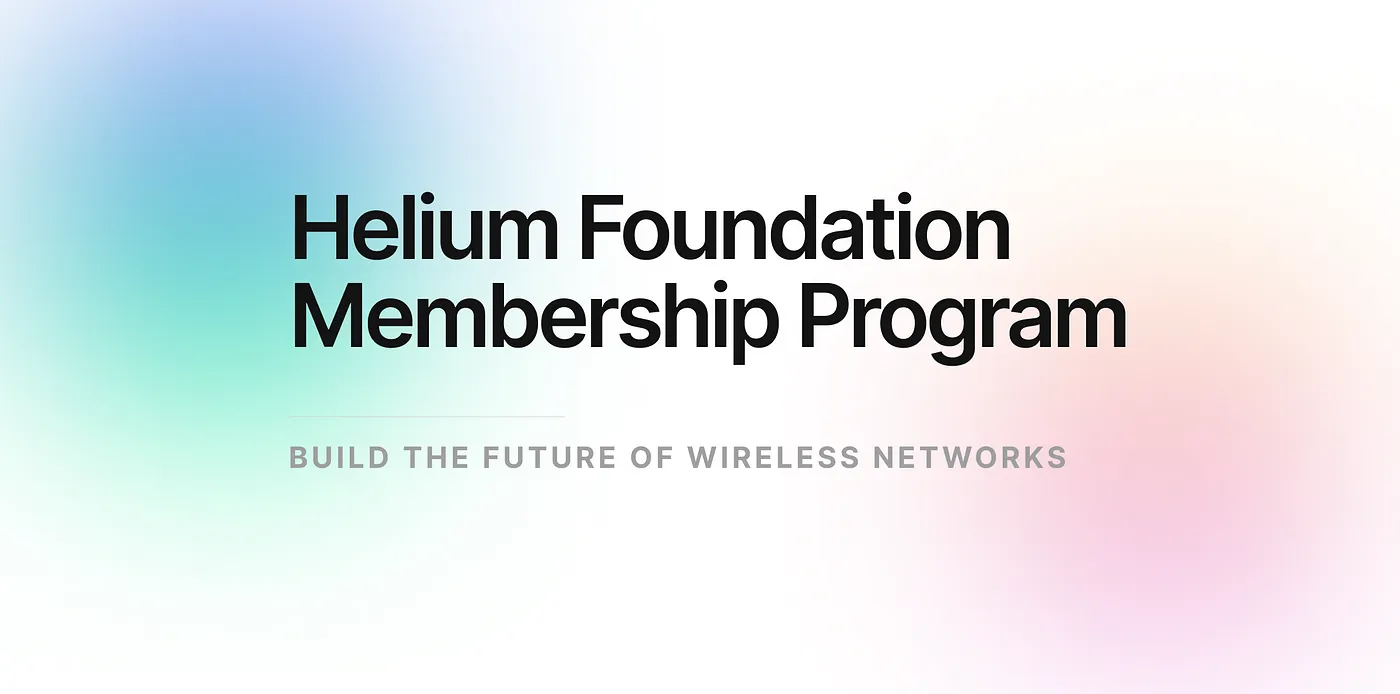 Steering Member - Steering Members are strategic partners who represent the top-level of membership. You represent the future of the decentralized wireless ecosystem and are one of the most important and influential organizations. As a member, you are steering the entirety of the technology and industry toward the future.
Operating Member - Operating memberships are for organizations that want to drive and deliver wireless, peer-to-peer technologies to the market. You are an organization classified as an Original Equipment Manufacturer (OEM), supply chain and logistics company, service provider, or other B2B and B2B2C company. You are a key builder and already support strategic partnerships to grow the ecosystem.
Startup and Small Business Member - Startup and Small Business members are innovative companies that provide as much value as large corporations, especially when it comes to building tooling, coordinating micro-communities, and providing feedback. Startups must employ fewer than 20 people and have raised less than $5M. Because of your status as an early-stage startup, this membership tier is made more accessible.
Enthusiast Member - Enthusiast Members are the bedrock of membership. You are a passionate individual and Helium hotspot super host. Whether you are new to the ecosystem or a long-time supporter of peer-to-peer wireless networks, you want to support the Foundation and become an important voice in the Network. This tier is not eligible for organizations.
Institutional Member - This tier is for academic, non-profit, and governmental organizations who want to contribute to the success of wireless, peer-to-peer networks. This tier is also for organizations providing grant funding or conducting research on decentralized wireless, network security, cryptography, and more.
Read more.
We believe the next phase of growth requires more demand-side education and support, strong product strategy, evolving incentives, and a coordinated effort to optimize the supply side of the Network. Much work ahead, but as the saying goes, "If you want to go fast, go alone. If you want to go far, go together."
Closing
We are excited to share these updates and look forward to the continued growth and innovation within the Helium Network and its community. Your engagement and support are invaluable as we stride towards a future of boundless wireless connectivity, and we thank you for being an integral part of this journey.
The next quarterly Protocol Report (Q4) will land in December. See you then!
Subscribe to newsletter.